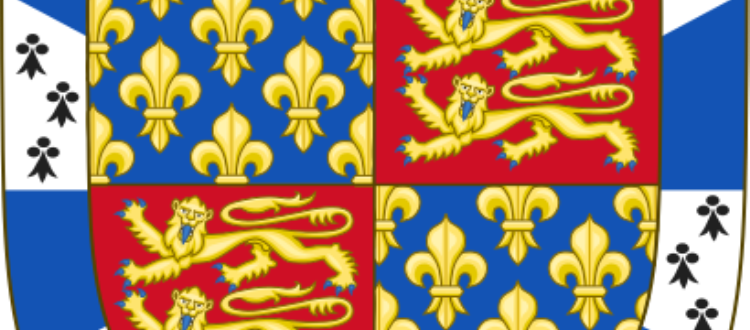 16-22 February 1415: The Custody of the King of Scotland, Expenses for Gascony and a Grant to a King's Knight
By Dan Spencer
On 16 February 1415, an instruction was issued for the payment of the outstanding expenses of the king's uncle, Thomas Beaufort, Earl of Dorset (later made Duke of Exeter in 1416), which he had incurred on the king's service in Gascony.
This was to be carried out in four instalments over eighteen months which were to total £5397 6s 4 ½d for the wages of 240 men-at-arms and 1200 archers who had served under him in the duchy since 6 April 1413. Beaufort had been appointed as Lieutenant of Gascony following Henry V's accession to the throne in March 1413. By July 1414 he had been recalled to England to help prepare for the impending war with France and was sent on an embassy to France in early 1415.
The following day, an annual grant of 100 marks was given to the King's Knight Richard Arundel for having performed good service under Henry IV and the new king following his coronation. This was primarily for his service in Wales during the rebellion of Owen Glendower, for instance in 1403 he had provided a retinue of five men-at-arms and eleven archers to garrison Carmarthen. Arundel indented to serve on the Agincourt campaign with nine men-at-arms and thirty archers. He died on 3 June 1419 and was buried in the Lady Chapel of Rochester Cathedral.
Later, on 22 February, an annual grant of £700 was given to John Pelham, knight, to whom Henry V had given custody of James I, King of Scotland, for the latter's expenses whilst at Pevensey Castle. James had been in English captivity since 1406, as a result of a failed attempt to send him to France. He was not to be released until 1424, as part of an agreement which included a ransom and his marriage to Joan Beaufort, a niece of Henry Beaufort, Bishop of Winchester. The captivity of the young Scottish king meant that the border with Scotland was relatively secure in these years. Pelham was Constable of Pevensey Castle, which was part of the estates of the Duchy of Lancaster (despite being in Sussex); a position which he had held since his appointment in 1393 by John of Gaunt (grandfather of Henry V). He played an important role in the government of Henry IV, which included serving as joint Treasurer of War from 11 November 1404-19 June 1406, being on the King's Council from April 1404-May 1406 and as Treasurer of the Exchequer from December 1411 until the death of Henry IV in March 1413. Pelham played no part in the Agincourt expedition, but his illegitimate son John did, and was knighted on the campaign.
This information came from The National Archives, E101/69/5/414; E101/69/5/414; C76/98 m.14; E101/43/21 m.3 dorse from the AHRC-funded database www.medievalsoldier.org, accessed 14 December 2014; Calendar of the Patent Rolls 1413-1416, pp. 281, 284, 286; M. H. Brown, 'James I (1394–1437)', Oxford Dictionary of National Biography, Oxford University Press, 2004 [http://www.oxforddnb.com/view/article/14587, accessed 11 Dec 2014]; 'Pelham, John (d.1429), of Pevensey castle and Laughton, Suss' in The History of Parliament: the House of Commons 1386-1421, J. S. Roskell and C. Rawcliffe  (eds) (Woodbridge: Boydell, 1993), available from http://www.historyofparliamentonline.org/volume/1386-1421/member/pelham-john-1429; G. L. Harriss, 'Beaufort, Thomas, duke of Exeter (1377?–1426)', Oxford Dictionary of National Biography, Oxford University Press, 2004; online edn, Jan 2008 [http://www.oxforddnb.com/view/article/1864, accessed 11 Dec 2014]
Image of the coat of arms of Thomas Beaufort, taken from Wikipedia, licensed under the Creative Commons Attribution-Share Alike 3.0 Unported license, author Sodacan